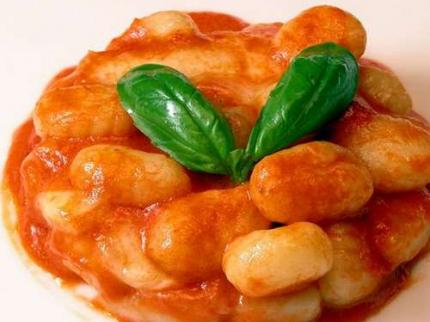 After spending last fall in Florence, Italy, I learned my way around an Italian menu. One of my favorite abroad food discoveries was delicious
gnocchi
(no-kee). Our guest house frequently served us these great potato noodles with delectable pesto sauce and I knew I had to make this for my family when I got back. Unfortunately, there is NO gnocchi in town (boo small towns) and I almost gave up. My boyfriend and I found some at Target awhile ago, but the nearest Target is almost an hour away (that's right… I live in
that
small town).
Recipe surfing a few weeks ago renewed my hope, though, that my family could still try gnocchi. I made a half batch of this the other night to test it out and it was wonderful! I didn't get my hands on any pesto, but it just as good with regular red pasta sauce. Enjoy!
INGREDIENTS:
1 cup dry potato flakes
1 cup boiling water
1 egg, beaten
1 teaspoon salt
1/8 teaspoon ground black pepper
1 1/2 cups all-purpose flour
DIRECTIONS:
1.Place potato flakes in a medium-size bowl. Pour in boiling water; stir until blended. Let cool.
2.Stir in egg, salt, and pepper. Blend in enough flour to make a fairly stiff dough. Turn dough out on a well floured board. Knead lightly.
3.Divide dough in half. Shape each half into a long thin roll, the thickness of a breadstick. With a knife dipped in flour, cut into bite-size pieces.4.Place a few gnocchi in boiling water. As the gnocchi rise to the top of the pot, remove them with a slotted spoon. Repeat until all are cooked.
peace&love,
Jill